A special flat, customarily rimless pan designed to cook food (such as pancakes) with a minimal amount of fat or oil. Griddles are usually made of thick, heavy metals that are good heat conductors, such as cast aluminum or cast iron. Some griddles have a nonstick coating. Like a frying pan, they usually have a long handle; some have handgrips on opposite sides.

From The Food Lover's Companion, Fourth edition by Sharon Tyler Herbst and Ron Herbst. Copyright © 2007, 2001, 1995, 1990 by Barron's Educational Series, Inc.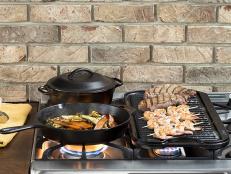 Plus, it's perfect for frying up eggs and bacon for breakfast!