Burger Bash 2017 Winners: Little Jack's Tavern and Jr's Gourmet Burgers
Take a behind-the-scenes look inside this fan-favorite event at the South Beach Wine & Food Festival.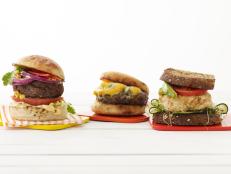 Fire up the grill! Food Network Magazine created 50 sizzling burgers — enough to keep you satisfied all season long!
It's an all-out war! With grilling season here, which type of burger should you be tossing on the barbecue?