10 of the Best Healthy Groceries You Can Buy at Costco Right Now
Buy in bulk and save money on your next healthy food haul.
Keep in mind: Price and stock could change after publish date, and we may make money from these affiliate links.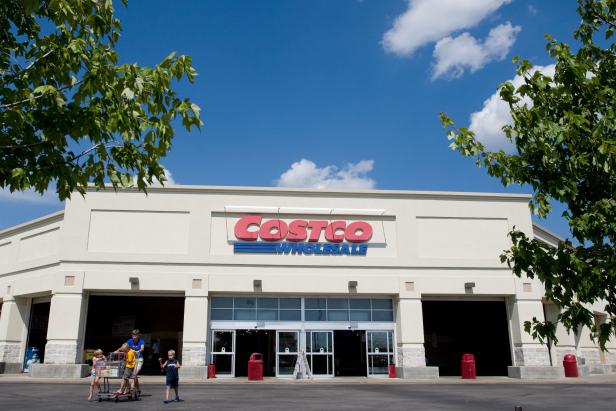 94866550
UNITED STATES - AUGUST 06: Lyn Fencl and her children Sarah, 4, left, Alex, 6, center, and Ben, 5, wheel their groceries to the parking lot at a Costco Wholesale Corp. store in Indianapolis, Indiana, U.S., on Wednesday, Aug. 6, 2008. Sales at U.S. retailers dropped in July for the first time in five months as record gasoline prices siphoned some of the tax rebates out of consumers' pockets. (Photo by D. Kevin Elliott/Bloomberg via Getty Images)
Eating better doesn't have to mean spending a fortune on healthy groceries at the supermarket on a regular basis. There are plenty of healthy products at Costco that you can buy in bulk. When you sign up for a membership, you gain access more of your favorite healthy snacks and pantry staples, meaning fewer trips to the store and lots of savings. These are the 10 must-buy groceries to keep your healthy eating resolutions on track.
If you're letting go of dairy for a diet or have decided to go vegan, this cauliflower-based dip is here to make that transition a little easier. According to recent reviews on Instagram, this new tub is a delicious substitute for regular queso and actually tastes like the real stuff!
Reiterating the need for snacks, Kind's variety of fruit- and nut-filled bars are an easy pick-me-up or early morning bite. And now, Kind nut bars reflect new nutritional information. According to new research from the USDA, nuts like almonds and cashews contain fewer calories than previously thought, resulting in a lower calorie count on Kind nut bars. These bars have 10-30 fewer calories than before, and all nutrients like protein and healthy fat levels have stayed the same, says Kind.
Buy It
Nuts are one of those things we think you should always buy at Costco. The price per-pound is enough to justify a solo order for a large jar of this protein-packed snack.
Buy It
It's always nice to have plenty of snacks on-hand, especially if you're feeding a family. Keep a box of these 100-calorie bags of Skinny Pop around, so you always have something quick (and pre-portioned) at the ready when a craving hits.
Buy It
These baked chickpea puffs standout amongst other cheddar-flavored snacks. They are organic, non-gmo, gluten-free and vegan. Not to mention, our editors love them. At only 130 calories per serving (with four grams of plant-based protein), it's worth grabbing any flavor: Vegan White Cheddar, Nacho Vibes, Bohemian Barbecue, Sriracha Sunrise or Himilayan Happiness.
Buy It
Tis the season for a delicious smoothie, meaning frozen fruit is essential. Stock up on frozen berries from Costco, so you're never caught without your new morning go-to drink.
Buy It
Keeping a jar of nut butter, whether that be almond or cashew, is a great idea for a filling snack high in protein. Spread it over toast or over an apple for a quick and satisfying meal. Buying this product in bulk is sure to save you in the long run.
Buy It
Are you participating in meatless Mondays? Or are you making a resolution to limit your meat consumption in your diet? These black bean burgers are about to be your new favorite substitute. Plus, they're a favorite among nutritionists, too.
Buy It
A satisfying swig of carbonated, probiotic-filled kombucha is just what you need when you are craving something other than water. Grab a six-pack at Costco, so you're never without a bottle.
Buy It