All-Star Slaws: Hold the Mayo (or Add the Mayo!)
What's cool and crunchy and delicious all over? Slaws made with cabbage (or broccoli, or kale or any other vegetable you feel like shredding) are one of summer's great ways to showcase produce. And the side dish doesn't necessarily have to involve loads of mayo -- but used in moderate amounts, the creamy condiment can still be a part of a healthy slaw. Here, Bobby, Guy, and Rachael go without mayonnaise, Ellie combines it with Greek yogurt, and Melissa uses just a tablespoon. Which version is your favorite?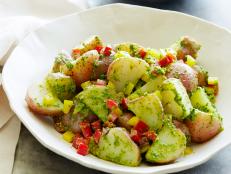 Try these healthy, mayo-free summer sides that'll please the mayo haters, lighten things up a bit, and keep your picnic spread safe sans refrigeration.