A round pan with high, straight sides (2½ to 3 inches) that expand with the aid of a spring or clamp. The separate bottom of the pan can be removed from the sides when the clamp is released. This allows cakes, tortes or cheesecakes that might otherwise be difficult to remove from the pan to be extricated easily by simply removing the pan's sides. Springform pans range in diameter from 6 to 12 inches.

From The Food Lover's Companion, Fourth edition by Sharon Tyler Herbst and Ron Herbst. Copyright © 2007, 2001, 1995, 1990 by Barron's Educational Series, Inc.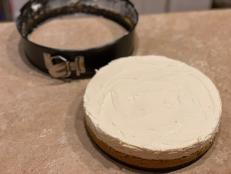 We baked and sliced dozens of cheesecakes to find the best springform pans.