Savor the Season: Your Guide to Canning Tomatoes
Just like the long days and high temperatures that are quintessential parts of summer, the time to enjoy the season's fresh produce is limited. To preserve summer flavors as long as possible, many resort to pickling, jamming and jarring various fruits and vegetables, but when it comes to tomatoes, canning is the way to go.
With just a few everyday tools, you can keep the juicy, fresh taste of sweet summer tomatoes alive all winter long, thanks to an easy-to-master canning process. Read on below to get the dish on canning tomatoes from Sean Timberlake, the founder of a DIY food site, then check out the details in his one-stop guide.
Tomato Picking: There are countless kinds of tomatoes on the market, but Sean recommends plum and San Marzano. "You'll want to choose a tomato variety with ample meat … and you'll want them just ripe."
Water Bath: After coring the tomatoes and marking them with an X on their bottoms (which will help you peel off their skins later), drop the tomatoes in boiling water for just a few seconds, then move them to ice water to quickly stop the cooking process.
The blanching — the dunk in hot water — will have helped the skins loosen from the flesh of the tomatoes. Sean notes, "Depending on how many tomatoes you are processing, you may need several changes of ice water, as the hot tomatoes will quickly melt the ice."
Fill Station: Once the crushed tomatoes have simmered on the stove for a bit, transfer them to sterilized jars via a funnel. Sean recommends putting basil at the bottom of the jars for extra flavor and says it's best to keep "about 1/2 inch of headroom at the top" of the jar.
Remember 11 and 15: There are a few magic numbers when it comes to canning tomatoes. You're striving for 11 pounds of pressure in the canner and 15 minutes of cook time at that pressure. "Keep an eye on the pressure," Sean explains. "It can go over 11 pounds, but it's best to keep the pressure as stable as possible. Moreover, if it dips below 11 pounds, it must be brought back up, and the 15 minutes started again."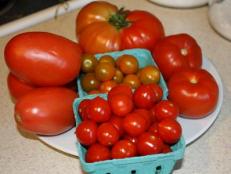 These juicy red veggies (technically fruit) are at peak season right now and come in so many varieties. Here's the low-down on the common ones you may find and a recipe for a simple roasted tomato sauce -- perfect for pasta or bread dipping.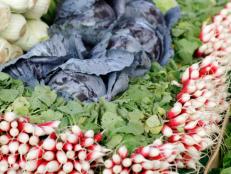 Spring is gearing up and for a local food junkie like me -- it's time to hit the farmers' markets. Discover how to find a market near you and other tips for eating closer to home.