How to Make the Best Stuffed Mushrooms Ever
Say goodbye to soggy mushrooms with these game-changing tips from Valerie Bertinelli's live demo on the Food Network Kitchen app.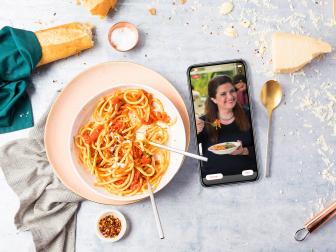 Download Food Network Kitchen now to sign up and take advantage of the latest offer and get 40+ live classes a week, hundreds of on-demand cooking classes, in-app grocery ordering and so much more.
The best part of cooking along on the Food Network Kitchen app is learning in real time what you've been doing wrong and finding a solution. Case in point, I've always wondered why my stuffed mushrooms are tasty but a bit soggy. While watching Valerie Bertinelli demo her Stuffed Mushrooms, I finally figured out why! Here's her solution to the watery mushroom conundrum plus three other tips for making perfect stuffed mushrooms.
1. Roast the empty mushrooms upside down before stuffing them.
Valerie turns mushrooms on their heads for the first part of this recipe, literally. "What happens with mushrooms is they tend to have a lot of water in them and they release a lot of water," says Valerie. "So this way when the mushrooms release the water, they're releasing it out onto the tray and not back into the mushroom." Brilliant!
2. Use the stems in the stuffing.
"The stems are just as delicious as the tops," says Valerie. She uses the finely chopped mushroom stems as the base of her filling to add more mushroom flavor to the dish. Bonus: This gives the appetizer a meaty bite without any meat.
3. Wash your mushrooms. Actually wash them.
There are two schools of thought on preparing mushrooms. Some people wipe them with a clean towel and others actually wash them. Valerie is a washer. "Put them under running cold water and that cleans them nicely," she advises.
4. Microplane the garlic instead of mincing it.
Huge chunks of garlic will overpower these single-bite mushrooms, so Valerie grabs her trusty microplane to make sure the garlic is dispersed evenly. "I prefer this technique when I really want the garlic to blend in … really melt into whatever I'm cooking," she says.
While these tips will help you make the best stuffed mushrooms with any filling, the best part about Valerie's recipe is that it's so easy and the ingredients are inexpensive! You don't need pricey crab meat or sausage, the mushrooms get their flavor from the stems, cherry tomatoes, onions and Pecorino cheese and an addictive crunch from the panko breadcrumbs. Plus, you can make the filling and stuff your mushrooms before your guests get there and then pop them in the oven to melt the cheese. And, Valerie advises, "Don't throw away the extra stuffing. Toss that in tomorrow's omelet!" Done and done.
Here are some exclusive on-demand classes to get you in the holiday cooking spirit!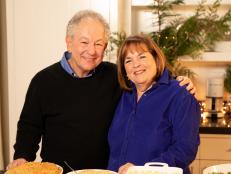 Plus, the surprising reason she's gotta have an over-the-top Thanksgiving and how you can cook along with her on the Food Network Kitchen app.