5 Ingredients: Chia Pudding
Have you tried chia seeds? They plump up when soaked and when combined with a milk (or a dairy alternative like coconut milk) create a cool, creamy pudding.
Love chia seeds? This easy-to-make, creamy pudding is bursting with fiber, omega-3 fat and tropical flavors.
One of the most magical characteristics of tiny chia seeds is how they can act as an thickening agent. When introduced to liquid such as milk, soy milk, almond milk or coconut milk, the seeds expand and soften, creating a pudding-like concoction. Create a mixture of your favorite flavors and after a few hours in the fridge, indulge in the velvety goodness.
½ cup chopped fruit (suggestions: pineapple and mango)
2 tablespoons toasted pumpkin seeds
Equipment: 4 (4-ounce) ramekins (optional)
In a large bowl, combine coconut milk, honey and chia seeds; whisk well. Transfer mixture to 4 ramekins (if using) and transfer to the refrigerator to set for at least 4 hours or overnight. Serve topped with fruit and pumpkin seeds.
Nutrition Info Per Serving
Calories: 151; Total Fat: 7 grams; Saturated Fat: 2 grams; Total Carbohydrate: 21 grams
Sugars: 11 grams; Protein: 4 grams; Sodium: 9 milligrams; Cholesterol: 0 milligrams
Fiber: 7 grams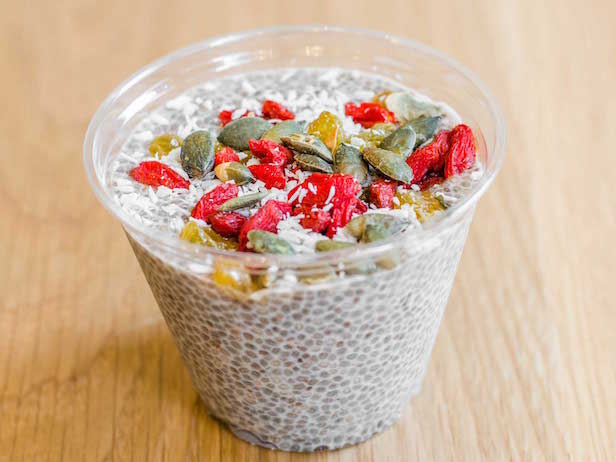 Try creative takes on classic chia pudding, including horchata-style chia pudding.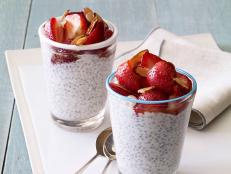 For a protein-rich breakfast, try Giada's Chia Seed Pudding from Food Network Magazine.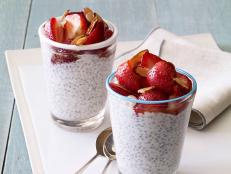 It's no wonder that Food Network Magazine's recipe for Chia Seed Pudding was pinned more than any other this week — it's a go-to breakfast full of texture and fresh flavor.