Alton Brown Is Extremely Picky About His Martinis and We Don't Blame Him One Bit
Spoiler alert: He has specific needs from the temperature of the gin to the number of olives and the texture of the ice in the glass.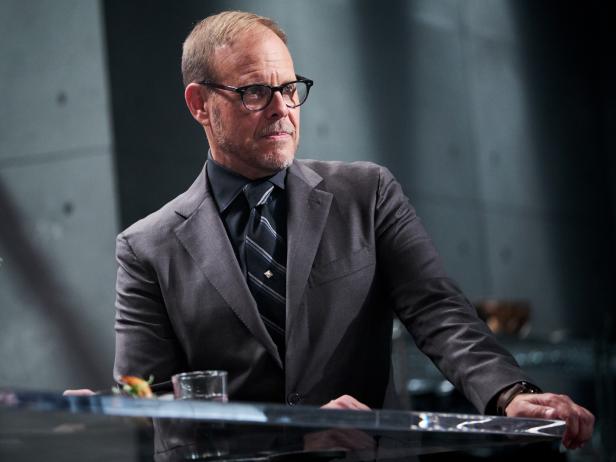 Host Alton Brown during judging of Chef Mike Gulotta's dishes, Soy Sauce Octopus Salad with Fresh Tomato Curry with Fried and Grilled Avocado, Charred Octopus with Crispy Potatoes Chorizo Squid Ink Aioli with Tomato Olive Citrus Marmalade, and Paella Negro Risotto, for the Secret Ingredient Showdown, as seen on Iron Chef Gauntlet, Season 1
Like a roast chicken or a chocolate chip cookie, a martini is a very personal thing — everyone, and I do mean everyone — has an opinion about how it should be made. (Vodka or gin? Olive juice or neat? Up or on the rocks? Decisions, decisions, amirite?)
Alton Brown, however, is perhaps the chief martini-demand-maker. We caught up with him recently, and the Iron Chef Showdown host revealed the makings of what he called his "ideal martini." Spoiler alert: He has specific needs, from the temperature of the gin to the number of olives and the texture of the ice in the glass.
First things first, though. Let's talk about the liquor. For Alton, it's gin (and, yes, vermouth, but gin is the important part here). " I generally do 60 milliliters of gin and 20 milliliters of vermouth and 10 milliliters of olive brine," he explains. But believe it or not, the gin isn't the most-essential piece to Alton.
Instead, the absolute key, he adds, is the fact that there must be always three olives and gin that's ice-cold. He recommends keeping the gin right in the freezer. Actually, freezer-level-cold gin is a must, he says. "That's actually super critical, and everything needs to be as cold as possible."

Speaking of cold, let's talk ice. Alton skips the shaker, he explained, in favor of his "mixing pitcher." And no, he doesn't just scoop cubes out of a plastic ice mold; there's a three-step process. "I will slosh a little bit of gin around the ice, dump it out and stick the pitcher with the ice with whatever gin is coating it into the freezer for a while," he told us. "What that does is it lowers the melting point of the ice. When you mix your martini, I don't stir it with a stirrer. I literally just shake the beaker, and you strain it out."

What results from all this, he said, is his ideal martini that's "a little bit dirty" and, of course, just icy enough. "You get those perfect little crystal of ice that naturally form on top of the martini, which I find positively delightful."
(Have you put your gin in the freezer yet? Do it and do it quickly.)