This Is the Internet's Most-Popular Kitchen Gadget
Trust us, it's not what you think.
Keep in mind: Price and stock could change after publish date, and we may make money from these links.
Let's be honest: We go to the Internet for everything. How should you cook a super juicy chicken breast? (Ahem!) Which KitchenAid mixer attachments do you need? (Here.) What's the best spatula money can buy? (Don't worry, we got you covered.) Seriously, everything.
Of course, the Internet is so much more than an omniscient search engine; it also keeps a finger on the pulse of what's trending. There's a reason viral food trends exist.
So when we found out Empire Today conducted a survey about the most popular kitchen gadgets, we were dying to see the search results.
But the most-searched kitchen gadget on Google might surprise you. No, it's not a sous vide or slow cooker or event an Instant Pot ... it's a spiralizer.
Yes, you read that correctly. A spiralizer.
Not only are spiralizers the most Googled kitchen gadget overall, but they're also the most popular item in six different states (here's looking at you, Alaska, California, Connecticut, Georgia, Nebraska and Virginia) and Washington, D.C.
It seems kind of random, right? After all, there are only so many things you can do with a spiralize — and so many vegetables you can turn into zoodles. But as low-carb diets like keto and Whole30 rise in popularity, zoodles are a viable alternative. A guilt-free dish with the same noodle texture? Um, have you tried Food Network Kitchen's Shrimp Scampi Zoodles?
Don't have a spiralizer in your culinary arsenal? We found three awesome spiralizers at every price range: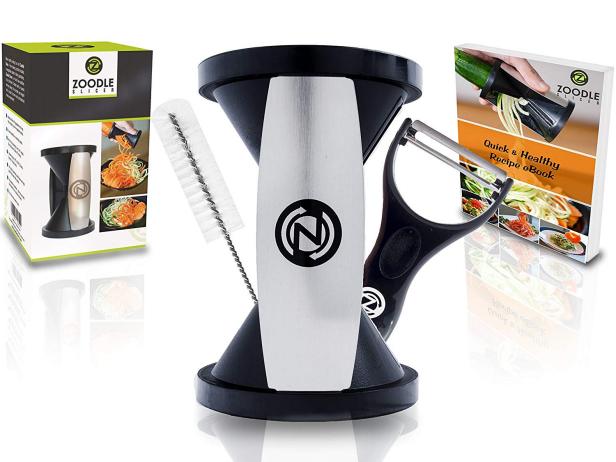 BUY IT: Amazon, $10.99

Just dipping your toes into the zoodle trend and not willing to spend a pretty penny on a spiralizer? Meet the Original Zoodle Slicer. This handheld contraption makes it incredible easy to spiralize carrots, cucumbers and so much more. Simply insert your vegetable in the top, give it a twist, and presto! Delicious noodle in a snap. With over 1,700 positive reviews and a 4.3/5 rating on Amazon, this pick is a consistent crowd-pleaser.

As a bonus, this spiralizer comes with a free digital cookbook, which means you'll have plenty of recipe inspiration.
Buy It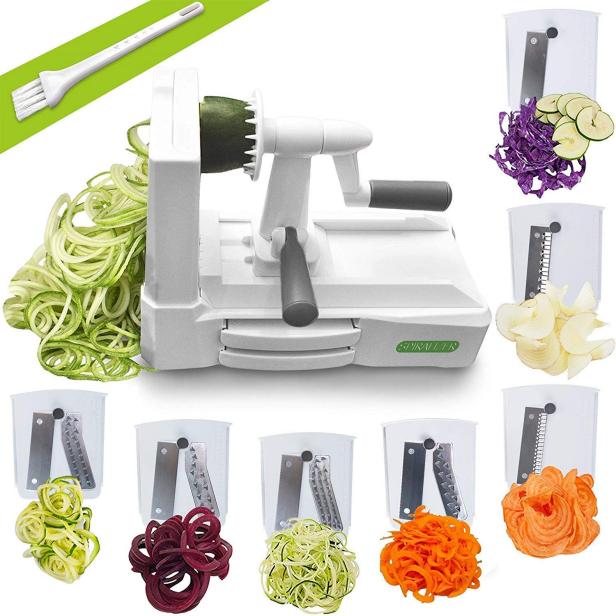 BUY IT: Amazon, $29.97

If you're ready to spend a little more on this handy kitchen gadget, here's a good, middle-of-the-road option. Although this pick requires more elbow grease — you have to crank the handle manually — it excels in versatility. This spiralizer comes with seven different types of blades so you can whip up anything from angel hair to curly fries. Adorned with an "Amazon's Choice" badge, this spiralizer is an insider favorite.
Buy It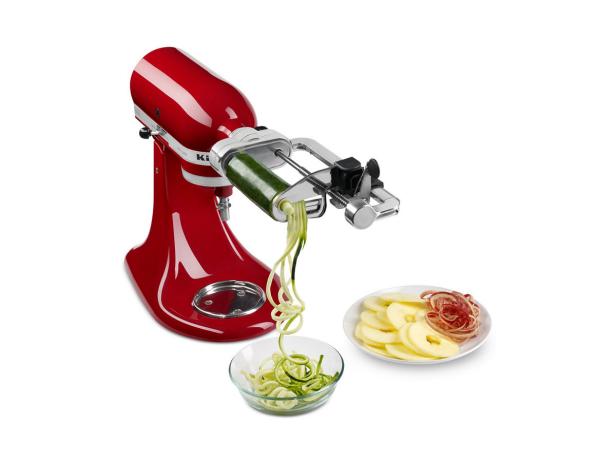 BUY IT: Macy's, $74.99 (reg. $124.99)

Behold: The creme de la creme of spiralizers. There's no denying KitchenAid's stand mixer is a reigning champion in your cabinet — and its selection of attachments is no exception. Sure, KitchenAid's option is the most expensive option on our list, but we'd also argue it gives you the most bang for its buck. This durable pick comes with enough blades for spiralizing, slicing, and peeling, so you can spruce up just about any meal with some yummy fruits and vegetables. Oh, and did we mention it operates with the mixer's motor? Flip on the stand mixer and it'll take care of the spiralizing for you. If zoodles are part of your regular diet — and you already have a stand mixer — it's well worth the investment.
Buy It