Chain Restaurants Launch Creative Ways to Feed Customers
California Pizza Kitchen and Panera Bread are now selling grocery items along with their typical menu offerings.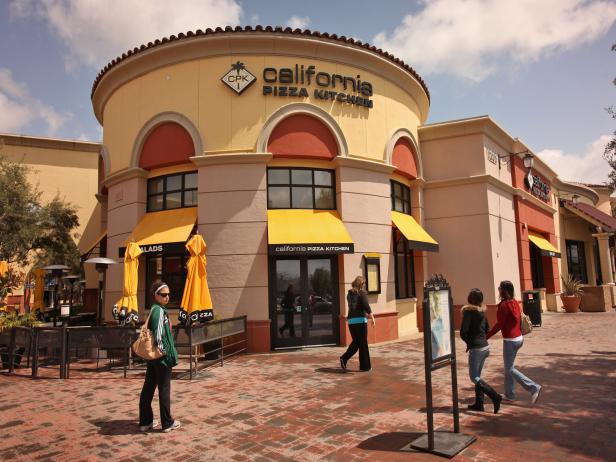 566034605
Seib, Al –– – SIMI VALLEY, CA – APRIL 12, 2010: California Pizza Kitchen located at the Simi Valley Town Center April 12, 2010. The Los Angeles–based pizza chain with 253 eateries worldwide, is considering a possible sale or merger, among other structural changes, the company announced Monday. The move was launched last week when the company's Board of Directors instructed management to look into a variety of plans to enhance shareholder value, as the company announced revenues for the first quarter fell slightly below the same period for last year but exceeded company expectations. (Al Seib / Los Angeles Times)
This article has been updated since it was originally published on April 2, 2020.
There are times in life that you deeply crave the familiar in the comfort of your own home – which is kind of like familiar… doubled. These are those times. Many of the chains you know and love are catering to that very craving, delivering favorite meals – and more – to your home or providing new opportunities for pickup.
California Pizza Kitchen, for instance, has just launched CPK Market, offering easy online ordering for takeout, curbside pickup and, in select locations, at-home delivery of family-friendly meal kits. Additionally, the chain is offering beer, wine, fresh produce, proteins and pantry items, in addition to its usual roster of takeout and delivery menu options, essentially functioning as a restaurant and mini market.
The kits include a Chef's Board (featuring breads, meats and cheese), a Raw Fruit & Veggie Box, a Lettuce Wrap Kit and a Taco Kit.
The chain is also offering two kits tailored specifically to the younger set: a Kids Build-Your-Own Cheese Pizza and Kids Build-Your-Own Pepperoni Pizza.
But perhaps more exciting is the CPK Market component that makes it easier for people cooking at home to get 35 key food and beverage items – ready for pickup or delivery. Items include the likes of eggs, rice flour, chicken sausage, pasta, sauce, Granny Smith apples and more.
And what is comfort food without the comfort of dessert and booze? CPK Market is also offering a choice of Key Lime Pie, Red Velvet Cake or a Sweets Tray (Brownies, Chocolate Chunk, Rocky Road, Snickerdoodle and White Chocolate Cookies) for between $14 and $35 each. And if you're over 21, you can get beer or wine by the 6-pack or bottle, respectively.
And for the kids or those eschewing alcohol in the midst of it all, there's juice – apple and cranberry.
"With food access currently top-of-mind for us all, we wanted to find new and creative at-home cooking solutions to ensure our guests and the communities in which we serve have as many high-quality fare options as possible," Ashley Ceraolo, CPK's senior vice president of marketing, said in a news release. "Given the entire country is dining differently and family mealtime is more important than ever, establishing a concept where guests could confidently purchase affordable produce, meat, and other essential pantry items was the best way we felt we could attend to immediate needs while still doing what we do best – serving our customers the most delicious food options available."
CPK is hardly the only one finding creative new ways to serve customers. Panera Bread just announced the launch of Panera Grocery, which will allow customers to easily order a selection of produce, dairy and pantry items such as milk, a variety of breads, yogurt, avocadoes, blueberries, vine ripe tomatoes and more. Items can be ordered through the MyPanera app and be picked up or delivered from your local Panera.
Texas Roadhouse also announced that it would sell its fresh cuts of steak – raw – for people to order, take home and grill in their own kitchens.
"I picked up steaks today and it worked out great. The steaks come with the seasoning and they were delicious," one satisfied Texas Roadhouse customer wrote on Facebook. "Best idea. Keep it going ..."
Olive Garden, too, is offering curbside pickup and delivery while its dining rooms are closed. For $12.99, you can get a hot, ready-to-eat entrée, your choice of soup or salad, breadsticks (!!!) and a free second entrée freshly prepared, packaged and chilled – so you have tomorrow's dinner sorted, too.
I mean, sure, cooking at home has its charms, but sometimes we can all use a break. Here's to the chains figuring out imaginative new ways to giving us one.