Pronunciation: [mah-skar-POH-nay]

Hailing from Italy's Lombardy region, mascarpone is a buttery-rich double-cream to triple-cream cow's-milk cheese. (Technically it's not cheese but rather curdled cream because citric or tartaric acid is used rather than rennet.). It's ivory-colored, soft and delicate, and ranges in texture from that of a light clotted cream to that of room-temperature butter. It's versatile enough to be blended with other flavors and is sometimes sold sweetened with fruit. In Italy's Friuli region a favorite blend is mascarpone mixed with anchovies, mustard and spices. But in truth, this delicately flavored cheese needs little embellishment other than being topped with fruit.

From The Food Lover's Companion, Fourth edition by Sharon Tyler Herbst and Ron Herbst. Copyright © 2007, 2001, 1995, 1990 by Barron's Educational Series, Inc.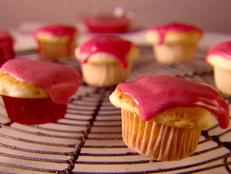 Need a sweet for your kid's school birthday party? Instead of bringing in 500-calorie cupcakes or donuts, bake up a batch of these delicious 100-calorie cupcakes.