Usher in Fall with Warming Cocktails
We understand that the transition from endlessly sunny summer days to cooler fall temps can be rough. Fortunately, we've also got the cure for summer nostalgia: crisp air, a cozy sweater, a roaring fire and one of these luxe warming cocktails.
If you ask us, the fresh lemon, orange and OJ in Bobby Flay's Mulled Red Wine Sangria (pictured above) totally counts towards your daily recommended servings of fruit.
"The Smoking Jacket." The name alone wraps you in a warm and cozy hug. To craft one, make a homemade simple syrup with Lapsang Souchong tea and sugar. Combine a tablespoon of the syrup with bourbon and allspice liqueur, then add hot water, and a lemon slice for garnish. (Finally, sit back in your wing chair, and alternate sips of the cocktail with tokes off your antique pipe.)
To whip up Sunny Anderson's Apple Toddy, just simmer apple cider with a clove-studded orange and cinnamon sticks to infuse the cider with delicious notes of citrus and spice. Then ladle it into mugs and top with a shot of brandy and a "generous" dollop of whipped cream (hey, you're just following directions).
Why should the kids get to have all the fun? This Seriously Toasty Texas Hot Chocolate is for grown-ups only. White chocolate liqueur and peppermint schnapps lace a cinnamon-scented homemade hot chocolate to create a cocktail that's a double treat.
For a tart take on a classic, try our Cranberry Toddy. Cranberry juice and cran-flavored vodka give it twice the puckery kick, while honey and cinnamon lend sweetness.
We've got a dozen delicious ways to celebrate the season.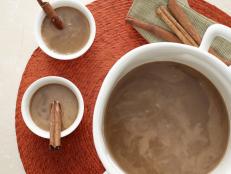 Kick back with warming holiday cocktails that are best sipped out of a mug.