This Pasta Recipe Scales Down the Feast of Seven Fishes
Honor Christmas Eve tradition with one seafood-packed dish that's ready in a snap.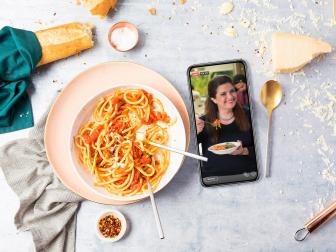 Download Food Network Kitchen to sign up and get access to live and on-demand cooking classes, in-app grocery ordering, meal planning, an organized place to save all your recipes and much more.
For many Italians and Italian-Americans, nothing says Christmas Eve like the Feast of Seven Fishes. Families often spend days preparing for a long, luxurious meal of seafood dishes. Though there are no hard and fast rules about the type of fish or number of courses, many will break up their feast into several rounds of food, including soup, salad, pasta and more.
That being said, sometimes a multi-course meal is just too much effort — especially if you're only cooking for a small number of people. But, we're always looking for new ways to enjoy our favorite dishes, and Dana Beninati's 7 Fishes Fra Diavolo Pasta class on the Food Network Kitchen app will teach you how to do just that. She whips up a spicy, fish-forward pasta dish that's perfect for an intimate crowd and doesn't require days to prepare.
The key to Dana's success? Timing. She'll show you how to cook a main course that features seven types of seafood (anchovy, clams, mussels, halibut, scallops, shrimp and calamari) in just 45 minutes. It does require a bit of multitasking, but that's exactly why you want to cook along with her. You can follow Dana exactly as she steams clams, sears scallops and boils pasta — and by doing so, she'll ensure that you don't miss a beat. By the time the class is over, you'll have a beautiful main course that's packed with seafood and beautifully prepared. It's the ideal option for a smaller Christmas Eve gathering — and it's so delicious, you might just want to make it again next year.
Dana's class airs live on the Food Network Kitchen app on December 20th at 6 pm EST. Set a reminder now so you don't miss it! And if you want to prepare this alongside Dana on Christmas Eve, don't worry — the class will be available to watch afterwards, too.