Season 4: Jennifer Cochrane

Where are you living and working now?

I am currently living in Woonsocket, R.I.

I'm now a hospitality manager at Bertucci's in Mansfield, Mass.

What have you been up to since FNS?

Still wishing to be part of Food Network. But on occasion I have been a fill-in on The Rhode Show, FOX Providence. I teach a class here and there, and still love to cater in my free time.

What was your favorite thing about being on FNS? And your least favorite?

The whole experience was mind-blowing. I still can't believe I was chosen to be part of such a wonderful show. My least favorite was not being prepared enough — lesson learned.

Do you keep in touch with other finalists?

Some, not as much anymore.

What was the funniest/coolest/weirdest (or worst!) incident to happen behind the scenes?

Knocking an elderly woman off her walker and falling into a whole stack of toilet paper at the supermarket.

How did being on FNS affect your culinary career?

I started having more people request me for catering events.

What advice would you offer the next round of finalists?

Think before you speak and when they say 30 minutes, they mean 20.

When you look back, what would you have done differently?

Practiced what I was going say before going in front of the camera. I have learned to be more confident.

Do people recognize you from being on the show?

I actually met a wonderful friend, Holly, right after the show. She had her granddaughter at the park. Holly and Lyric (my daughter) hit it off right away. We had to use the bathroom and, since she had recognized me from the show, invited us over. We have been friends ever since.

What was the greatest lesson you learned from your time on FNS?

To think outside the box.

What's your current favorite recipe or signature dish?

My favorite recipe is Apple Banana Coffee Cake With an Oat Crumb Topping.

Anything else?

I am going to try again, so I hope this show is still on the air next year.


Read more at: http://www.foodnetwork.com/shows/food-network-star/contestants/jennifer-cochrane/bio.html?oc=linkback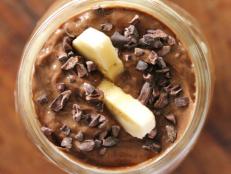 Join Food Network's Healthy Eats in discovering the best healthy bloggers around the web. Today we're talking to Jennifer Vagios.