Ron Ben-Israel's Solutions to Holiday Baking Disasters
We asked baking expert and Sweet Genius host Ron Ben-Israel for advice on how to avoid—and recover from—baking disasters this holiday season.
Baking Disaster: I don't have time to bake the day of my party.

Ron's Solution: A lot of holiday baking can be done in advance. Because many baked goods actually improve over time, you can bake the day before your party or, for some recipes, even sooner. Don't wait until the last minute, and if possible, practice your recipes before the big day. If you can't try out the recipe in advance, use a tried-and-true recipe, plus something experimental — then you'll have a backup.

Disaster: My cake is deflated.

Solution: Testing the oven before baking is very important. Some ovens operate at a higher or lower temperature than their display reading. An inexpensive oven thermometer helps calibrate it. And don't open the door. "It's like trying to spy on Santa," says Ron. "Especially in the first half-hour of any cake that rises; a blast of air can just deflate a cake."


Disaster: My cake is stuck to the pan.

Solution: Firstly, if your cake required greasing, a spray shortening works best because regular shortening or butter sometimes leaves clumps. Always be sure to flour, as well. If some of your cake gets stuck to the top of the pan, divide whatever comes out into cellophane bags to give as party favors. Or try cake camouflage: Put a little buttercream, frosting or whipped cream on the broken pieces and stick them back on before smoothing more topping on top. Powdered sugar is also a miracle worker: a little powdered sugar, plus a sifter, then just sift all over. You can do it off of your presentation plate, or if it's already on your platter, cut strips of parchment paper and tuck them under to protect the surface.

Disaster: My pie is too runny.

Solution: If you see your pie is not baking properly because it's too runny, lift it up carefully and drain the excess liquid into a glass or a microwave-safe pot. Don't throw out the juices: One minute in the microwave will reduce the liquid into a syrup that is perfect for drizzling on your finished pie. You can also speed up the cooking time by putting your pie under the broiler. You can also blind bake the crust first, as crust often takes longer to bake. Always do it the day before, and chill everything in advance, including the beater and the bowl. (Ron even rolls out the crust in advance in the pie tin, covers it with plastic, then refrigerates it overnight.)

30+ Holiday Baking Recipes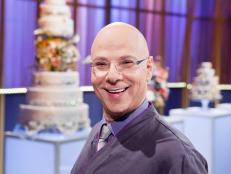 We asked baking expert and Sweet Genius host Ron Ben-Israel for his five hard-and-fast rules for whipping up sweet treats this holiday season.