It's the 15th anniversary of Guy Fieri's Food Network debut. Let's take a trip down Flavortown's memory lane to celebrate!
On a chilly February day in 2006, Guy Fieri showed up to the set of The Next Food Network Star a little underdressed. The California-based restaurateur arrived in New York City wearing flip-flops and a yellow leather jacket, and among the sea of chefs in white coats who'd been called to Food Network's studios that day, Guy definitely stood out. He hadn't seen a single episode of the show, but some friends and family had caught the first season and encouraged him to apply. "I didn't think I had a chance of winning, but I decided I would have a good time and experience something I'd never done," he says. Guy not only earned a spot as a competitor — he also went on to a victory that sparked a 15-year (and counting) career on Food Network, and he quickly became one of the most famous and beloved chefs in the country.
His first show, Guy's Big Bite, debuted later that year and featured Guy cooking cornbread-stuffed meatloaf and flank steak on a set that looked a lot like a man cave. The show ran for a decade and it's where he met his longtime collaborator and producer Mark Dissin; it also led to the launch of Guy's other hits, including Guy Off the Hook (a cooking show in front of a live audience — and Guy's favorite), Guy's Grocery Games, Tournament of Champions and Guy's Ranch Kitchen, which he films at his home in Santa Rosa, CA. But the biggest success of all has been Diners, Drive-Ins and Dives: More than 400 episodes in, fans still can't get enough. "People love stories of courage and energy, family and passion," Guy says. "Now the joke is that I'll be doing the show in a walker." He and his team have visited more than a thousand eateries in hundreds of cities, and he has continued to put out new episodes, even during the past year. Guy and his wife Lori admit that he's not a lover of downtime, so when people began social distancing and quarantining, Guy got into gear, transforming Guy's Grocery Games and Diners, Drive-Ins and Dives into virtual shows that he and his sons, Hunter, 24, and Ryder, 15, shot from home on GoPros.
It's no secret that Guy is a hard worker, and that passion carries into his work with the community as well. Helping others has always been a part of his ethos, instilled in him by his parents. "Everyone has to bring what they can to the table," he says. Over the years, he has volunteered with the Make-a-Wish Foundation in honor of his sister, Morgan, who passed away from metastatic melanoma in 2011. He also founded a nonprofit, Cooking with Kids, to teach children how to cook and start their own businesses. (It was inspired by his own startup — a bicycle-powered pretzel cart he built when he was 10 years old!) In 2017, he helped feed first responders and victims of the Santa Rosa fires that spread throughout his hometown. And now he's focusing on the Restaurant Employee Relief Fund to help workers impacted by the pandemic. So far he has helped raise more than $21 million.
Believe it or not, Guy's plan for the future is to open more restaurants. He already runs 85 across the US, and he recently launched a delivery-only chain called Flavortown Kitchen with 175 locations. He also plans to use his experience as a television producer and host to help make others shine. "My real interest is what I can do for my brothers and sisters in the business," he says. "I love to see people get a chance at a home run."
Here are some of Guy's biggest pop-culture moments.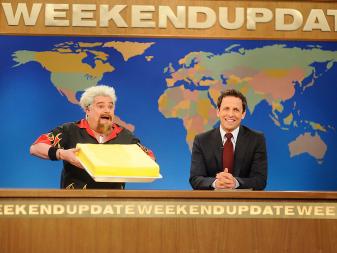 2009
Actor Bobby Moynihan debuts his Guy impersonation on Saturday Night Live. Throughout the years he reprises the role, riffing on some of Guy's catchphrases like "I could put this on a flip-flop and it would taste good."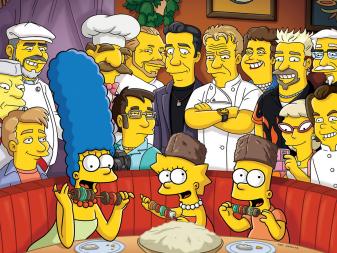 2011
In a season 23 episode of The Simpsons called "The Food Wife," a cartoon Guy Fieri appears with Paul Prudhomme and other famous chefs.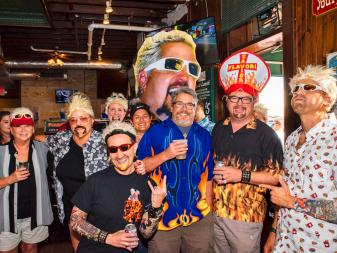 2016
More than 100 people gather in New York City for the first fan-initiated "FieriCon" bar crawl. It concludes at Guy's former Times Square restaurant, Guy's American Kitchen & Bar.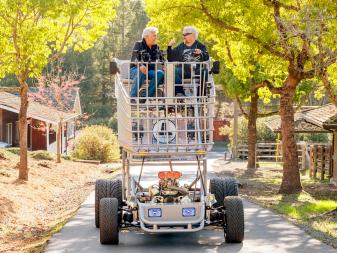 2018
Guy appears on Jay Leno's CNBC series Jay Leno's Garage with his vintage red Camaro and his "Shopper Chopper," a motorized vehicle-size shopping cart!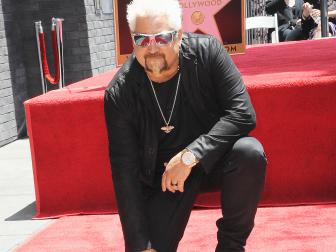 2019
He earns a star on the Hollywood Walk of Fame. He's only the third chef ever to do so, following Bobby Flay and Wolfgang Puck.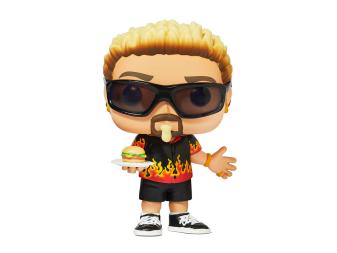 2020
A Guy Fieri Funko Pop! doll debuts. These popular figurines include fictional characters like Harry Potter and real-life icons like Elvis Presley.
Let's Hear It From the Boys
Guy's sons Hunter and Ryder answer a few questions about their famous father.
Q: What's your favorite memory with your dad?
A: "One of my favorites is when we filmed Guy & Hunter's European Vacation. We made Parmesan cheese and gelato, went lobster fishing, milked goats and so much more. The stories never end!" —Hunter
Q: What are you planning on getting him for Father's Day this year?
A: "A popcorn maker and a book on protein smoothies." —Ryder
Q: What is your favorite dish that your dad makes?
A: "Chicken Marsala. Everyone on the crew loves it, too!" —Hunter and Ryder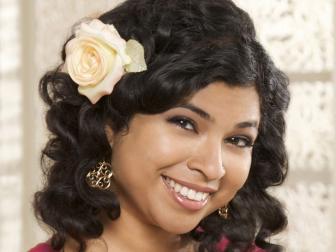 "I remember I had just won Food Network Star, so I had gone to Guy's set to see how the big dog does it. He came over and said, 'Hi, what are you up to? We're going to shoot another episode, do you want to be in it?' I thought it was really kind and thoughtful." —Aarti Sequeira
"I was filming Guy's Ranch Kitchen in Northern California and my daughter, Ava, Zoomed with me the first night for help with her math homework. 'Uncle' Guy took over the call! He helped her through her math problems and told her Mom would be home soon. He's always kind like that." —Alex Guarnaschelli
"Guy and I were at a house party the night before the NBA All-Star Game. At 2 a.m. the entire house of about 200 people asked us to cook. It was a music-stops, all-eyes-on-us moment. We used the house as a Guy's Grocery Games set and made ramen noodle sandwiches. It was the beginning of a long friendship." —Michael Voltaggio
All text written by Erica Finamore for Food Network Magazine.
Guy Portrait and Funko Pop! photos by Philip Friedman.
Hunter, Ryder and Guy in Kitchen photo by Food Network.
SNL Photo by Hana Edelson/NBC Universal/Getty Images.
Remaining photos by Photofest, Brianna Griepentrog and Getty Images.