Thanks to American ingenuity, cream cheese was developed in 1872 by William Lawrence, a Chester, New York, dairyman. The appellation comes from the smooth, creamy texture of this mildly tangy, spreadable cheese. The soft, unripened cheese is made from cow's milk and by law must contain at least 33 percent milk fat and not more than 55 percent moisture. For improved firmness and increased shelf life, most cream cheese has added stabilizers, usually a combination of ingredients such as carrageenan, guar gum and xanthan gum. American neufchatel cheese (not to be confused with the French neufchâtel) is slightly lower in calories because of a lower milk fat content (about 23 percent). It also contains slightly more moisture. Reduced fat cream cheese has a milk fat content of between 16.5 and 20 percent, light or lowfat cream cheese can have no more than 16.5 percent milk fat and nonfat cream cheese has zero fat grams. The easily spreadable whipped cream cheese has been made soft and fluffy by air being whipped into it. It has fewer calories per serving than regular cream cheese only because there's less volume per serving. Cream cheese is sometimes sold mixed with other ingredients such as herbs, spices or fruit. Refrigerate cream cheese, tightly wrapped, and use within a week after opening. If any mold develops on the surface, discard the cream cheese.

From The Food Lover's Companion, Fourth edition by Sharon Tyler Herbst and Ron Herbst. Copyright © 2007, 2001, 1995, 1990 by Barron's Educational Series, Inc.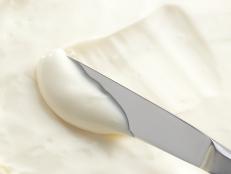 Does this soft, spreadable cheese have any place in a healthy eating plan? It may depend on which kind you choose.