A French rotary grater that is perfect for grating small amounts of foods like cheese, chocolate and nuts. The hand-held unit consists of two sections with hinged handles. The end of one handle contains a food hopper with a grating cylinder and a crank for rotating the cylinder. The other section has a rounded surface that acts as a clamp, pressing the food to be grated into the grating cylinder. The hinged handles are held in one hand and squeezed so that the food presses against the grating cylinder. Meanwhile, the other hand turns the crank, causing the cylinder to rotate and the food to be grated.

From The Food Lover's Companion, Fourth edition by Sharon Tyler Herbst and Ron Herbst. Copyright © 2007, 2001, 1995, 1990 by Barron's Educational Series, Inc.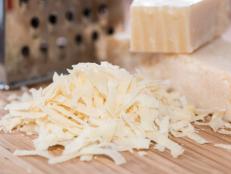 We shredded — not to mention sliced, zested and ribboned — all manner of soft and hard cheeses, to find the greatest graters available!