10 Clever Tips for Choosing and Serving Wine at the Holidays
Here's how to please all your guests with your pours — plus get delicious pairing ideas from Amanda Freitag.
It's always a great idea to keep wine on hand for the holidays. But if you're hosting friends and family, where should you start? We asked experts for their best tips and tricks on all things wine — how to shop, what to stock — so you can have one less thing to worry about this season.
And if you're looking for the best apps to pair with your wine, tune into your Amanda Freitag's LIVE classes on the Food Network Kitchen app on Monday December 2, 2019 at 9 a.m, 12 p.m. and 3 p.m. EST. Food Network Kitchen has parterned with Francis Ford Coppola Winery for these classes, and Amanda has created recipes that pair perfectly with three of their wines. When you purchase these selections in bundles of 3 or 6 bottles, and you'll see a 25% discount + $5 flat shipping in your cart.
Here's what she'll be teaching — tap "remind me" in the app so you don't miss out! (But if you do, don't worry — the classes will be on-demand after their live premiere, too.)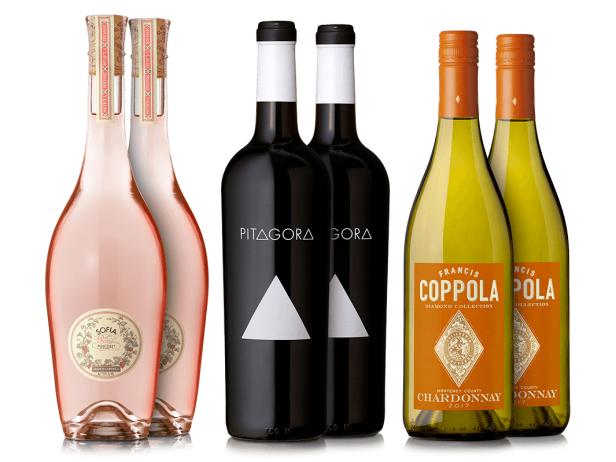 Courtesy of Francis Ford Coppola Winery
1. Stock crowd-pleasing reds and whites — double-up for maximum variety.
"I recommend having two types of red and two types of white," says Tondi Bolkan, winemaker at Francis Ford Coppola Winery. "For red, Cabernet Sauvignon and Pinot Noir. And for white, Chardonnay and Sauvigon Blanc." By picking varieties that fall on different parts of the wine spectrum, Bolkan explains, all your bases are covered, no matter your guests' tastes.
2. But consider kicking things off with sparkling wine.
Nothing sets the party mood like popping a cork. Pouring bubbly is a fast, festive way to kick things off, so have a chilled stash ready to hand out to guests as they arrive.
3. When shopping, take advantage of your local wine store — and the experts who staff it.
They're often incredibly knowledgeable and eager to help answer any potential pre-party questions you might have. Run pairing ideas by them, give them a budget to solve for, or ask them what they're drinking.
4. When serving wine-based mixed drinks like sangria or punch, let guests add the alcohol themselves.
Options are key, and on the drinks side, that includes offering beverages that aren't just wine. "With mixed drinks, I'll pre-batch the mixer or juice portion in a drink dispenser and set the intended wine or spirit next to it, along with a measuring spoon and DIY instructions," says Cynthia Ruff, the blogger behind Darling Down South. That way, a guest can decide how much (or how little) alcohol to add in — or they can skip it entirely.
5. But make sure not to pre-ice any big-batch drinks.
Have a punchbowl or drink dispenser? Keep a separate bucket of ice next to it, says Kaitlin Moss, the blogger behind The Every Hostess. This is the way to go for two reasons. One: During the lead-up to the event, it allows you to store the drink mixture on the counter — instead of the likely-crowded fridge. And two: It ensures your drinks won't water-down as the night goes on.
6. Always keep the wine opener out.
Or better yet, keep several around for your guests to grab. It may sound obvious — but there's nothing worse than having the wine opener go missing halfway through a holiday gathering.
7. Serve a wildcard wine to switch things up.
"When hosting, I love serving at least one 'challenge wine' — something that's surprising, and can spark conversation," says Bolkan. Maybe it's a wine from an innovative region, or it's a trend everyone's talking about, or there's a fascinating story behind the winemaker that you can tell. Whatever it is, an interesting wine can fuel conversation — and that's always a good thing.
8. Break out the quirky glasses!
Speaking of conversation starters, don't be afraid to mix up your drinkware. Bring out glasses from past tastings, DIY painting nights, or even invest in a few new colorful or patterned ones. Mix-and-match glasses also double as an easy way to keep track of whose glass is whose.
9. When pairing wine with food, remember the classic combos — but don't get stuck on them.
There's a reason why you always hear about pairing white wine with fish or red wine with steak, says Bolkan. It's because they work! Still, they're not the end-all, be-all, so don't sweat it. "The holidays are already stressful enough as it is," she says. Generally speaking, serve what you like to eat and what you like to drink, and you'll be just fine.
10. If you're still not sure what wine your guests will enjoy, ask them directly on the RSVP.
Market research: wine edition! When sending out event invites, include a line asking your attendees about their favorite wine or what types they like. "That way, you know exactly how to please your guests," says Ruff. "And they'll be delighted you thought of them."