As one of humankind's oldest forms of bread, the versatile pancake has hundreds of variations and is served for breakfast, lunch and dinner and as appetizers, entrées and desserts. Pancakes begin as a batter that is poured into rounds, either on a griddle or in a skillet, and cooked over high heat. These round cakes vary in thickness from the wafer-thin French crêpe to the much thicker American breakfast pancake (also called hotcake, griddlecake and flapjack). Many countries have specialty pancakes such as Hungarian palacsinta and Russian blini; swedish pancake.

From The Food Lover's Companion, Fourth edition by Sharon Tyler Herbst and Ron Herbst. Copyright © 2007, 2001, 1995, 1990 by Barron's Educational Series, Inc.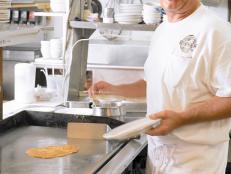 Using a batter-filled squeeze bottle, Smith drew the outline of each face and let the lines cook slightly, then filled in the gaps with more batter. The outlines cooked longer, so they were darker than the rest of the pancake.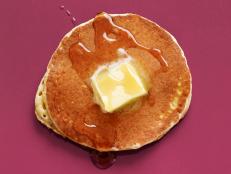 Upgrade your Sunday brunch with a short stack from Food Network Magazine.