How to Make an Indoor Self-Watering Herb Garden
Start an herb garden indoors with a planter that will keep your herbs hydrated and blooming all year long.
Empty 2-liter soda bottle
Scissors
Twine
Plastic wrap
Soil
Herb seedlings or seeds
Water
Rinse a 2-liter soda bottle, remove the label and cut in half with scissors.
Cut three 6-inch strands of twine.
Tie the twine strands together in a knot about 2 inches from one end, to create a wick.
Puncture a 1/2-inch hole into a square of plastic wrap.
Thread the twine wick through the plastic wrap hole.
Wrap the plastic over the neck of the bottle.
With the neck of the bottle facing down, fill one-third of the way with soil.
Spread out the strands of the twine wick and plant the herb seedlings or seeds.
Fill in any gaps with more soil.
Add water to the base of bottle.
Place the neck of the bottle into the base, so the twine wick can absorb the water.
Keep the self-watering planter in an area with plenty of sunlight.
Add more water to the base of the planter when you see it needs refilling.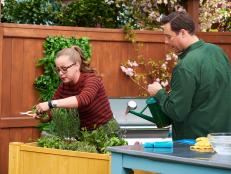 If you haven't started that herb garden you've been meaning to plant, don't worry--it's not too late. We have a few easy tips to jumpstart you into the growing season.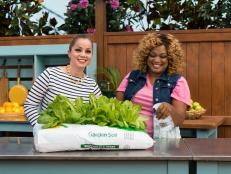 Don't have a green thumb? Don't worry! Getting your garden growin' is easier than you think! Here are some of our favorite tips.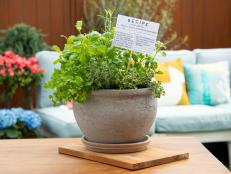 It's the gift that keeps on giving.