In the restaurant business, this term refers to the kitchen area and staff and all the related goings-on (delivery and so on) that the public doesn't typically see. Conversely, the front of the house describes a restaurant's public areas, which would include dining room, bar and banquet room. See also brigade system.

From The Food Lover's Companion, Fourth edition by Sharon Tyler Herbst and Ron Herbst. Copyright © 2007, 2001, 1995, 1990 by Barron's Educational Series, Inc.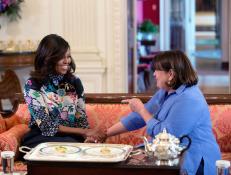 Ina Garten chats about her visit to Washington, D.C. and the White House in her new special Barefoot in Washington, premiering on Saturday, Nov. 5 at 1|12c.