Martha's Tips and Warnings for Holiday Party Appetizers
Plus, watch her make her favorite Gougeres recipe on the Food Network Kitchen app.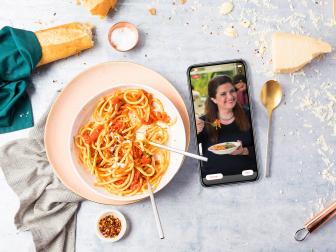 Download Food Network Kitchen now to sign up and take advantage of the latest offer and get 40+ live classes a week, hundreds of on-demand cooking classes, in-app grocery ordering and so much more.
In this series, we're showing off some of the coolest recipes, tips and tricks we've learned from chefs in the all-new Food Network Kitchen app.
If you've ever wanted holiday advice from a food professional in real time, the live classes on the Food Network App give you that opportunity. Where else can you get live help from a person like Martha Stewart? Yes, that Martha Stewart.
Case in point: While Martha was demoing her favorite recipe for Gougeres, which are poppable pastry puffs loaded with cheese, she answered fans' questions about planning appetizers for holiday parties. Here are her tips:
If you have a main dish, keep the apps simple.
If she's serving a big meal, Martha keeps the hors d'oeuvres light, usually just gougeres and cocktails. "This is usually all I serve," she said. "I'm not big on hors d'oeuvres because our dinners are so big and delicious… I don't want them to lose their appetite."
Or, have a cocktail party!
However, if she is planning a cocktail party, she goes all out with cheese straws, oysters, poached shrimp,"all kinds of things," Martha noted. "I like to have an hors d'oeuvres party."
Finally, know your friends.
Another fan asked Martha how many pieces of hors d'oeuvres to serve per person. She says that six is a good number but she adds a caveat, "You'll notice that there are at least one or two people that will eat all of them. I have a brother like that … even if there are 100 shrimp, he will eat them all!" Martha laughed, "Know your friends."
Sign up now to take all of Martha's classes on the Food Network Kitchen app and channel her holiday expertise into your parties. Plus, watch the schedule for more live demos with her and all of your favorite FN chefs!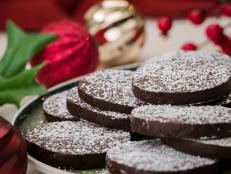 Baker and cookbook author Samantha Seneviratne dropped some valuable knowledge during a class on the Food Network Kitchen app recently, and it's changed the way we'll bake from now on.