A term for baking a pastry shell before it is filled. The shell is usually pricked all over with a fork to prevent it from blistering and rising. Sometimes it's lined with foil or parchment paper, then filled with dried beans or rice, or metal or ceramic pie weights. The French sometimes fill the shell with clean round pebbles. The weights and foil or parchment paper should be removed a few minutes before the baking time is over to allow the crust to brown.

From The Food Lover's Companion, Fourth edition by Sharon Tyler Herbst and Ron Herbst. Copyright © 2007, 2001, 1995, 1990 by Barron's Educational Series, Inc.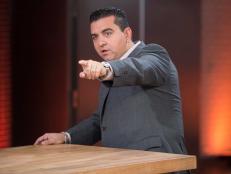 Get the latest details on the upcoming new series Bakers vs. Fakers, premiering on Food Network on Wednesday, Jan. 25 at 10|9c.