Pronunciation: [kuhn-SERV; KON-surv]

A mixture of fruits, nuts and sugar, cooked together until thick, often used to spread on biscuits, crumpets and so on. See also jam; jelly; preserve.

From The Food Lover's Companion, Fourth edition by Sharon Tyler Herbst and Ron Herbst. Copyright © 2007, 2001, 1995, 1990 by Barron's Educational Series, Inc.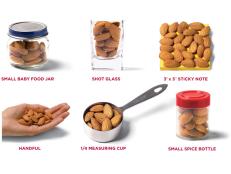 One serving of almonds equals 23 nuts, but if you're not one to count up your snacks, use this visual guide to help you control portions.