Whole-wheat flour that is slightly coarser than regular grind. It was developed by Rev. Sylvester Graham, a Connecticut cleric, who was one of the early leaders in health food advocacy. See also flour.

From The Food Lover's Companion, Fourth edition by Sharon Tyler Herbst and Ron Herbst. Copyright © 2007, 2001, 1995, 1990 by Barron's Educational Series, Inc.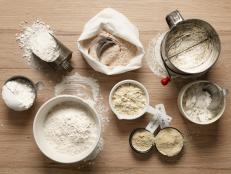 Learn what differentiates types of flour and how to choose the one that's best for your desired baking outcome.