Instant flour is a granular flour especially formulated to dissolve quickly in hot or cold liquids. It's used mainly as a thickener in sauces, gravies and other cooked mixtures.

From The Food Lover's Companion, Fourth edition by Sharon Tyler Herbst and Ron Herbst. Copyright © 2007, 2001, 1995, 1990 by Barron's Educational Series, Inc.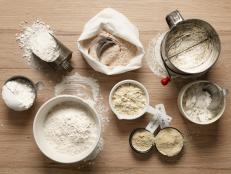 Learn what differentiates types of flour and how to choose the one that's best for your desired baking outcome.