Pronunciation: [MANG-uh-steen]

Widely cultivated in the Asian tropics, the mangosteen is no relation to the mango. In size and structure, it's much like a tangerine, having 5 to 8 fruit segments. The segmented flesh is soft, cream-colored and juicy. It has a tantalizingly sweet-tart flavor that is extremely refreshing. The hard skin of the mangosteen is a dark purple-brown. Unfortunately, the mangosteen is rarely imported to the United States.

From The Food Lover's Companion, Fourth edition by Sharon Tyler Herbst and Ron Herbst. Copyright © 2007, 2001, 1995, 1990 by Barron's Educational Series, Inc.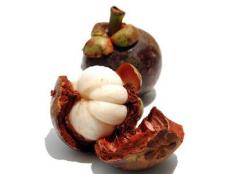 Like acai berries, mangosteen is another exotic fruit that's quickly climbing the super food lists. You might see supplements or juice drinks that tout the fruit as a cancer cure-all. We looked beyond the sales pitches to find out the basics.