A mixture of diced carrots, onions, celery and herbs sauteed in butter. Sometimes ham or bacon is added. Mirepoix is used to season sauces, soups and stews, as well as for a bed on which to braise food, usually meats or fish. A white mirepoix omits the carrots and often incorporates mushrooms and/or parsnips.

From The Food Lover's Companion, Fourth edition by Sharon Tyler Herbst and Ron Herbst. Copyright © 2007, 2001, 1995, 1990 by Barron's Educational Series, Inc.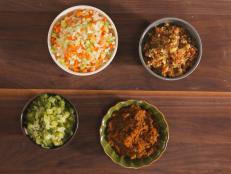 Follow our guide to giving your sauces and stews a flavorful head start, then watch our how-to video.