Also called bean paste, this Japanese culinary mainstay has the consistency of peanut butter and comes in a wide variety of flavors and colors. This fermented soybean paste has three basic categories—barley miso, rice miso and soybean miso—all of which are developed by injecting cooked soybeans with a mold (koji) cultivated in either a barley, rice or soybean base. Additionally, the miso's color, flavor and texture are affected by the amounts of soybeans, koji and salt used. It's further influenced by the length of time it is aged, which can range from 6 months to 3 years. Miso is a basic flavoring in much of Japanese cooking. The lighter-colored versions are used in more delicate soups and sauces, and the darker colored in heavier dishes. There are also low-salt varieties available. Shinshu miso is a golden yellow, all-purpose variety with a mellow flavor and rather high salt content. There are regional favorites such as sendai miso, a fragrant, reddish-brown variety found in northern Japan, and the dark brown hatcho miso, popular in central Japan. Miso is used in sauces, soups, marinades, dips, main dishes, salad dressings and as a table condiment. It's easily digested and extremely nutritious, having rich amounts of B vitamins and protein. Miso can be found in Japanese markets and natural food stores. It should be refrigerated in an airtight container.

From The Food Lover's Companion, Fourth edition by Sharon Tyler Herbst and Ron Herbst. Copyright © 2007, 2001, 1995, 1990 by Barron's Educational Series, Inc.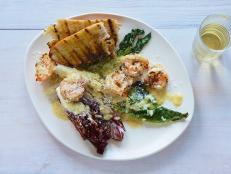 Learn how to make a Grilled Caesar Salad with Yellow Miso dressing for this week's Chopped Dinner Challenge, where the chefs decided to use the basket ingredient yellow miso paste.