Pronunciation: [nee-uh-PAHL-uh-tuhn]

Brick-shaped ice cream made up of three differently flavored ice creams (usually vanilla, chocolate and strawberry). It's normally served in slices, each of which displays the tricolored ice cream. Other desserts (or gelatin salads) made in three distinct layers are also labeled "neapolitan."

From The Food Lover's Companion, Fourth edition by Sharon Tyler Herbst and Ron Herbst. Copyright © 2007, 2001, 1995, 1990 by Barron's Educational Series, Inc.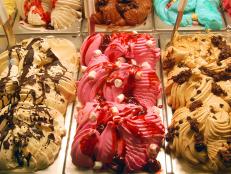 No, gelato and ice cream aren't the same thing. Here are a few key differences.