Any domesticated bird used as food. Centuries ago the Chinese began raising a variety of birds that were gradually brought to the West via Asia, Greece and Rome. Today there are many domesticated varieties of poultry including chicken, turkey, duck, goose, Rock Cornish hen, guinea fowl and pheasant. All poultry ranks high nutritionally. It's classified as a complete protein, is a good source of calcium, phosphorus and iron, and contains riboflavin, thiamine and niacin.

From The Food Lover's Companion, Fourth edition by Sharon Tyler Herbst and Ron Herbst. Copyright © 2007, 2001, 1995, 1990 by Barron's Educational Series, Inc.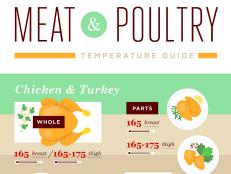 Use Food Network Kitchen's internal-temperature chart to serve perfectly cooked meat every time.