This creamy South Carolina specialty is made with crab meat and roe and flavored with sherry and worcestershire sauce. Since fresh crab roe is available only in the spring, she-crab soup is seasonal.

From The Food Lover's Companion, Fourth edition by Sharon Tyler Herbst and Ron Herbst. Copyright © 2007, 2001, 1995, 1990 by Barron's Educational Series, Inc.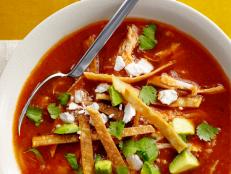 Stay warm all season with dozens of soups from Food Network Magazine.