A quick bread that is leavened with baking soda combined with an acid ingredient, usually buttermilk. Irish soda bread is the best known of this genre.

From The Food Lover's Companion, Fourth edition by Sharon Tyler Herbst and Ron Herbst. Copyright © 2007, 2001, 1995, 1990 by Barron's Educational Series, Inc.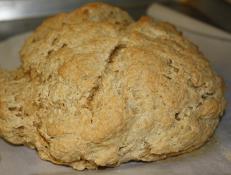 Make this quick, easy classic Irish bread with our 5-ingredient recipe.