Soufflés are customarily baked in a classic soufflé dish, which is round and has straight sides to facilitate the soufflé's rising. These special dishes are ovenproof and come in a variety of sizes ranging from 3½-ounce (individual) to 2-quart. They're available in kitchenware shops and the housewares section of most department stores. Foil or parchment "collars" are sometimes wrapped around the outside of a soufflé dish so that the top of the foil or paper rises about two inches above the rim of the dish. Collars are used for cold dessert soufflés so that the sides of the frozen or molded mixture are supported until they set. Once the collar is removed, the soufflé stands tall and appears to "rise" out of the dish.

From The Food Lover's Companion, Fourth edition by Sharon Tyler Herbst and Ron Herbst. Copyright © 2007, 2001, 1995, 1990 by Barron's Educational Series, Inc.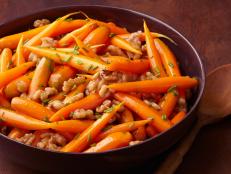 You won't run short on side dishes this year...or next.