Ina's All-Time Favorite Pumpkin Dessert
Plus, the surprising reason she's gotta have an over-the-top Thanksgiving and how you can cook along with her on the Food Network Kitchen app.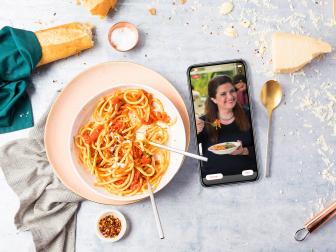 Download Food Network Kitchen now to sign up and take advantage of the latest offer and get 40+ live classes a week, hundreds of on-demand cooking classes, in-app grocery ordering and so much more.
It's a fact: Thanksgiving dinner isn't complete without something pumpkin. Ina grew up with this tradition as well. "When I was a kid, my mother's idea of a dessert was an apple... But, every year for Thanksgiving she would make pumpkin banana mousse. It was delicious," says Ina, "but we had it EVERY year. I think that's why I like Thanksgiving to be really over the top and every year I come up with a new pumpkin dessert that's really special."
This week on Instagram, Ina revealed that of all of her pumpkin dessert creations, her all-time favorite is her Pumpkin Roulade with Ginger Buttercream. "It's a moist pumpkin sponge cake filled with rich Italian mascarpone and crystallized ginger cream," says Ina. We're listening. "It's not only delicious but looks very impressive, too."
If you're a frosting lover AND a cake lover, a roulade is the perfect way to go. The balance of super-soft, spicy pumpkin cake to creamy, ginger-studded filling is spot on because the flat cake is spread evenly with the filling and then rolled into a gorgeous spiral of deliciousness. That means you get both cake and filling in every luscious bite.
Not sure if you're up to the task of creating a roulade? Don't freak out over having to roll up a large cake, "I know it looks scary but it's actually really easy," says Ina. Her secret weapon is to dust a clean kitchen towel with confectioner's sugar and to roll the still-warm cake into the towel while it cools so it will roll easier when it is spread with the filling. After making the filling, she unrolls the cooled cake, spreads it with frosting and then uses the towel to carefully roll the cake into a long tube. Then the cake can be chilled until it's ready to slice and serve!
Here are some exclusive on-demand classes to get you in the holiday cooking spirit!