A popular beverage in Colonial days, bounce is made by combining rum or brandy with fruit, sugar and spices and allowing the mixture to ferment for 1 to 3 weeks.

From The Food Lover's Companion, Fourth edition by Sharon Tyler Herbst and Ron Herbst. Copyright © 2007, 2001, 1995, 1990 by Barron's Educational Series, Inc.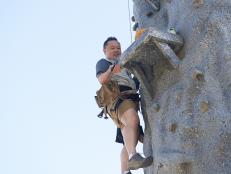 Watch as Camp Cutthroat judge Jet Tila tried his hands at two of the most-diabolical sabotages to face campers.