Dropping the "e" from whiskey is traditionally British and is used in the spelling of Canadian whiskey. Made only in Canada, this distilled blend of rye, corn, wheat and barley is smoother and lighter than its cousins, rye whiskey and bourbon. It's wood-aged a minimum of 3 years with an average of 4 to 6 years. The casks used for aging can be new or previously used for bourbon, brandy or sherry, all of which lend their individual characteristics. Some producers create their blends before aging; others age the individual distillates first, then blend the whiskeys after aging.

From The Food Lover's Companion, Fourth edition by Sharon Tyler Herbst and Ron Herbst. Copyright © 2007, 2001, 1995, 1990 by Barron's Educational Series, Inc.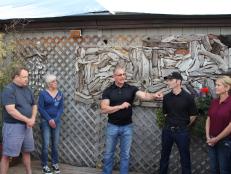 Find out how Whiskey Creek Steakhouse is doing after their Restaurant: Impossible renovation with Food Network's Robert Irvine.