Hanging and aging is how many meat processors tenderize meat, but the home cook can easily do so by simple mechanical or chemical methods. Tenderizing meat mechanically is accomplished by breaking down the meat's tough fibers through pounding. Meat pounders (also called meat bats, mallets and tenderizers) come in metal or wood and in a plethora of sizes and shapes. They can be large or small, have horizontal or vertical handles and be round-, square- or mallet-shaped. Some have smooth surfaces while others are ridged. Tenderizing meat chemically refers to softening the meat fibers by long, slow cooking, by marinating it in an acid-based marinade, or by using a commercial meat tenderizer. Most forms of the latter are a white powder, composed mostly of a papaya extract called papain, an enzyme that breaks down tough meat fibers. The use of this enzyme is nothing new—South American cooks have been using papaya juice to tenderize meat for ages. Powdered meat tenderizer is available at most supermarkets. Most brands contain salt, sugar (in the form of dextrose) and the anticaking agent calcium stearate.

From The Food Lover's Companion, Fourth edition by Sharon Tyler Herbst and Ron Herbst. Copyright © 2007, 2001, 1995, 1990 by Barron's Educational Series, Inc.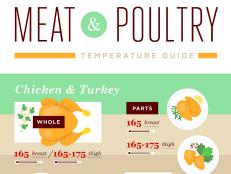 Use our internal-temperature chart to serve perfectly cooked meat every time.