Water containing various minerals and sometimes gases, taken from wells or natural springs. Mineral water is often effervescent and was once drunk almost exclusively for medicinal purposes. It's now commonly used as a refreshing beverage, either alone or mixed with flavoring.

From The Food Lover's Companion, Fourth edition by Sharon Tyler Herbst and Ron Herbst. Copyright © 2007, 2001, 1995, 1990 by Barron's Educational Series, Inc.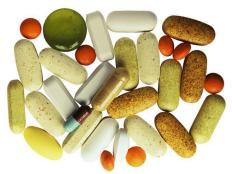 Many people pop vitamin and mineral pills, but it's best to get what you need from food, unless your doctor determines that you have a deficiency.