Pronunciation: [VIHN-ih-ger]

Derived from the French vin aigre, "sour wine," vinegar is made by bacterial activity that converts fermented liquids such as wine, beer or cider into a weak solution of acetic acid (the constituent that makes it sour). Vinegar has been used for centuries for everything from beverages (like shrubs), to an odor diminisher for strong foods such as cabbage and onions, to a hair rinse and softener. There are myriad vinegar varieties found in markets today, and the following are among the most commonly available. Apple cider vinegar (also called cider vinegar) is made from fermented apple cider and has a faintly sweet apple flavor. Cane vinegar is based on the juice of sugarcane; it has a rich and mellow, slightly sweet flavor and golden color. Distilled white vinegar (or simply distilled vinegar) is exceedingly high in acetic acid and is very sour and rather harsh-tasting. It's often made from a grain-alcohol base. Fruit vinegars come in a bevy of flavors made from the juice of various fruits including raspberries, mangos and oranges. Herb vinegars are made by steeping fresh herbs in warm vinegar for a period of time until the vinegar is completely infused with the ingredient's flavor. Such vinegars may be based on a single herb (such as tarragon) or a combination of herbs and other flavorings (such as oregano and garlic). Malt vinegar is a mellow-flavored favorite in Britain, particularly with fish and chips. It's based on malted barley and sometimes colored with caramel. Rice vinegar, made from fermented rice, is mild, slightly sweet and used widely in Japanese and Chinese cooking. It's a key element in dishes such as sushi. Wine vinegars can be made from either red or white wine and can range in flavor from pleasantly pungent to rather ordinary. Two of the most highly regarded vinegar styles come from Italy and France. From Italy comes the exquisite Italian balsamic vinegar, made in and around the areas of Modena and Reggio Emilia. It's produced from white Trebbiano grapes, the must of which is cooked and concentrated until deep, dark and rich. The vinegar continues to gain its dark color and pungent sweetness from a lengthy period of aging in barrels of various woods (such as chestnut, juniper and mulberry) and in graduating sizes, from larger to smaller as the vinegar ages over a period of years. It should be noted that many balsamic vinegars contain sulfites, which are primarily added to inhibit the growth of unfavorable flavor-detracting bacteria. Balsamic vinegars range in age from young (3 to 5 years), to middle-aged (6 to 12 years) to the noble older versions, which can range from 12 to over 100 years old. By law, a vinegar labeled aceto balsamico tradizionale di Modena must have been wood-aged for a minimum of 12 years. The word stravecchio on the label tells you the balsamic's been aged at least 25 years. Older, high-quality balsamics are sometimes used as an aperitif or digestif after a meal. White balsamic vinegar also comes from Modena, Italy, but is made by an entirely different process than classic balsamic vinegar. The grape undergoes pressurized cooking, which prevents the caramelization of both flavor and color. White balsamic vinegar is aged only 1 year in uncharred barrels, further assuring both color and flavor will remain light. It's used in food preparations where additional color is not desired. France gives us Banyuls vinegar (le vinaigre de Banyuls), which hails from the area around the seaside town of Banyuls-sur-Mer, a region wine lovers know for its unusual fortified wines. Comparing favorably with Italian balsamic vinegars and aged Spanish sherry vinegars, Banyuls begins life as one of the local wines (typically grenache) and spends five years or more maturing in oak barrels. During the final year of aging, vinegar from an older batch is added to trigger the ultimate conversion from wine to vinegar. The result is a tart blend replete with complex aromas of allspice, anise, nuts and vanilla. From the area of southern Spain around Jerez de la Frontera comes not only sherry but aged sherry vinegar as well. Like balsamic vinegar, some sherry vinegars are aged for years—30, 50 or even 75. And though not as well known as balsamic vinegars, these aged Spanish vinegars rival many of their Italian counterparts in quality, flavor and character. Vinegar is essential in making pickles, mustards and vinaigrettes. It adds a jolt of flavor to numerous sauces, marinades and dressings, and to preparations such as sauerbraten, sweet-and-sour dishes and marinated herring. It's also widely used as a table condiment in many cultures. Vinegar should be stored airtight in a cool, dark place. Unopened, it will keep indefinitely; once opened it can be stored for about six months.

From The Food Lover's Companion, Fourth edition by Sharon Tyler Herbst and Ron Herbst. Copyright © 2007, 2001, 1995, 1990 by Barron's Educational Series, Inc.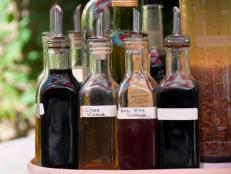 With so many varieties of vinegar available, choosing the right vinegar to compliment your dish can get confusing. These vinegar basics will get your taste buds on track.